First listed on: 06 June 2017

Head of Unit, SAAS MedSTAR Kids South Australian Ambulance Service
CLINICAL LEADER EXPERIENCED IN PAEDIATRIC AND NEONATAL RETRIEVAL SERVICES
COMMITTED TO COLLABORATION AND REFORM
ABLE TO DEVELOP A SHARED VISION FOR SAAS MEDSTAR KIDS
SA Ambulance Service (SAAS) provides emergency medical assistance, treatment and transport and high quality patient care to the people of South Australia. As an integral part of South Australia's health system, SAAS prides itself on their ability to save lives, reduce suffering and enhance quality of life.

SAAS MedSTAR is South Australia's single emergency medical retrieval service. Launched in March 2009, SAAS MedSTAR has been built on the foundation of over 30 years of critical care neonatal, paediatric and adult medical retrieval operations in South Australia. Responsible for providing care to the critically ill and injured throughout the SA Health care region and beyond, MedSTAR is committed to providing a world leading emergency medical retrieval service. SAAS MedSTAR Kids, a dedicated paediatric and neonatal service component was launched in February 2010.

SAAS is now seeking a Head of Unit, MedSTAR Kids to provide clinical leadership for the continuous development, support and management of neonatal, paediatric and perinatal components of the SAAS Statewide Retrieval Service. This exciting position will play a leadership role in the continuing development of the statewide SAAS MedSTAR Kids service through collaboration with clinicians and health services across SA Health and by developing and implementing sustainable, effective and innovative models of pre-hospital and retrieval care for neonatal and paediatric patients.

The successful candidate will have:
Appropriate Specialist qualifications in Paediatric Medicine, Paediatric Emergency Medicine, Paediatric Anaesthetics or Paediatric Intensive Care Medicine or Neonatology giving eligibility for registration as a Specialist with the Medical Board of Australia.
Clinical experience in neonatal, paediatric and / or perinatal retrieval medicine.
The ability to work collaboratively and facilitate and support positive and constructive relations with a wide range of stakeholders.
Experience in influencing and achieving cultural change.

Before applying: obtain selection documentation at https://hardygroupintl.com/web/careers.php?search_id=1001

For a confidential discussion, contact Liz Hlipala, +61(0)401 122 301 lhlipala@hardygroupintl.com

Closing date: 4th July 2017 I REF: H17_2521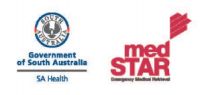 Closing Date:

04 Jul 2017
Location:

SA - Adelaide
Work Type:

Full Time
Category:

Anaesthesiology
Emergency Services/Paramedics
Executive Management/Corporate Services
Medical Officer/Practitioner
Paediatrics/Neonatal
Public Health
Trauma/Emergency/Critical Care