Postdoctoral Fellowship in Clinical Applications
First listed on: 11 August 2017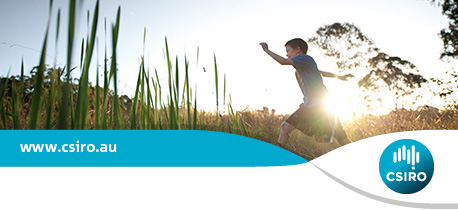 Postdoctoral Fellowship in Clinical Applications
The Position
Carry out innovative, impactful research in to Cerebral Palsy

Contribute

to improvements in symptoms and tailor treatment for this disease

Join

CSIRO- Australia's premier science and technology research organisation
The Position
CSIRO offers PhD graduates an opportunity to launch their scientific careers through our Postdoctoral Fellowships. These fellowships provide experience that will enhance career prospects and facilitate the development of potential leaders for CSIRO.
We are seeking to appoint a highly motivated Postdoctoral Fellow to undertake research into Cerebral Palsy and the quantitative analysis of MR images for a forthcoming project for three years to develop and translate methods to quantify abnormalities in anatomy and tractography in children with Cerebral Palsy from MRI. These will be used to predict the improvements in disease symptoms and tailor treatment for these children.
You as the successful candidate will join a multidisciplinary team working within the Australian e-Health Research Centre (AEHRC), part of the CSIRO Health and Biosecurity, and Queensland Hospital and Health services. You will have a unique opportunity to develop and validate new approaches to investigate Cerebral Palsy and translate the outputs of research into clinical practice for the benefit of the community and healthcare delivery in Australia and worldwide, within an internationally recognised group.
Postdoctoral Fellows are appointed for up to three years and will work closely with a leading Research Scientist or Engineer in their respective field. They carry out innovative, impactful research of strategic importance to CSIRO with the possibility of novel and important scientific outcomes. They present the findings in appropriate publications and at conferences.
Location: Herston, Brisbane QLD
Salary: $78K - $88K plus up to 15.4% superannuation
Tenure: 3 year term
Reference: 37461
To be successful you will need:
Knowledge and experience of the development of processing pipelines to identify and quantify anatomy from 3D structural MR images, particularly in the face of pathological variations.

Demonstrable experience in developing their own algorithms to perform quantitative analysis, ideally with experience with C++, Python and R (or Matlab).

Demonstrated motivation and discipline to carry out autonomous research and meet project deadlines.
Before applying please view the full position details and selection criteria here: Position Details
Who we are: The Commonwealth Scientific and Industrial Research Organisation (CSIRO)
At CSIRO, we do the extraordinary every day. We innovate for tomorrow and help improve today - for our customers, all Australians and the world. We imagine. We collaborate. We innovate.
How to Apply: Please upload one document only that includes both your cover letter and CV/Resume, ensuring that you provide enough information relevant to this position to enable the selection panel to determine your suitability for this role. If your application proceeds to the next stage you may be asked to provide additional information.
Position will remain open until filled

Location:

QLD - Herston
Salary:

$78K - $88K plus up to 15.4% superannuation
Work Type:

Full Time
Category:

Allied Health
Clinical Research/Trials
Clinical Work
Disability Services
Fellowships
Medical Imaging
Neurology/Neuroscience
Paediatrics/Neonatal
PhD/Masters/Scholarship/Cadetship/Traineeship
Research/Scientific