FSP Postdoctoral Fellowship in Molecular Systematics and Taxonomy - [Archived Advertisement]
First listed on: 22 February 2018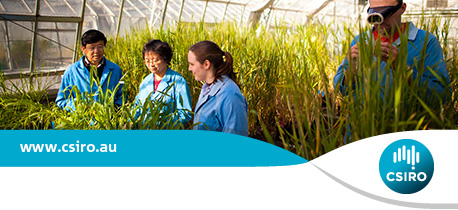 FSP Postdoctoral Fellowship in Molecular Systematics and Taxonomy
An outstanding opportunity to launch your research career!

Develop mobile Genome Sequencing: Genome power in your pocket

Join CSIRO's Environomics Future Science Platform and be part of the next scientific revolution.
The position
Future Science Platform (FSP) Postdoctoral Fellowships at CSIRO provide opportunities to scientists and engineers, who have completed their doctorate and have less than three years relevant postdoctoral work experience. As a Postdoctoral fellow you will work closely with a leading Research Scientist or Engineer in their respective field to carry out innovative, impactful research of strategic importance to CSIRO with the possibility of novel and important scientific outcomes.
Massive Parallel Sequencing, initially known as Next Generation Sequencing, revolutionised all Life Sciences and beyond during the past ten years. Sequencing Platforms like Illumina HiSeq and PacBio RS changed the way we generate DNA sequence data and make unprecedented amounts of data available to any research project. Today we are part of a new phase of "Next Generation Sequencing" development, with new technologies like Nanopore Sequencing pushing onto the market. These technologies are about to start the next scientific (and maybe even social) revolution, promising truly mobile, real-time genome sequencing at costs affordable to individuals. Potential applications for this technology are wide-ranging, but molecular species identification is a particularly prominent and important purpose that would greatly impact many areas like biosecurity, medicine, conservation and biodiversity research.
In this role you will develop new approaches for molecular identifications of multicellular organisms (especially insects) with a focus on mobility (sequencing in the Australian bush), reliability and ease of use (sequencing for everyone). Wet-lab procedures will centre on cutting-edge technology like Oxford Nanopore's MinION, SmidgION and VolTRAX. As the successful candidate, you will enjoy a lot of freedom to explore different methods and will be expected to develop innovative approaches by testing novel ideas and / or adopting existing methods. The development will span the entire workflow from DNA extraction to analysed data, and bioinformatics support to develop analysis software can be provided if needed. Throughout the project, you will liaise with potential clients to ensure the development of tools that are needed to answer real-life questions in professional work environments.
Full details about this position are available here: Position description
Location: Canberra, ACT
Salary: $83K - $91K plus up to 15.4% superannuation
Tenure: Specified term of 3 years
Job ref.: 55763
To be successful you will need:
A doctorate (or will shortly satisfy the requirements of a PhD) in a relevant discipline area, such as Biology or Genetics.
Please note: To be eligible for this role you must have no more than 3 years of relevant postdoctoral experience.
High level written and oral communication skills.

A record of publications in quality, peer reviewed journals.

Evidence of an innovative spirit, e.g., through proven record of having contributed novel ideas and / or adopted existing methods for scientific research.

Extensive theoretical and practical expertise in current laboratory techniques for molecular genetics, including DNA extraction and NGS library building.

Experience with developing laboratory workflows for problem solving.

Experience with Oxford Nanopore products; Linux and programming for data analyses; taxonomy and species identifications would be an advantage.
Before you apply please view the full position details and selection criteria here: Position description
The Commonwealth Scientific and Industrial Research Organisation (CSIRO)
We imagine. We collaborate. We innovate. At CSIRO, we do the extraordinary every day. We innovate for tomorrow and help improve today – for our customers, all Australians and the world. We do this by using science and technology to solve real issues. Diversity is the compass that navigates our innovation. We provide an inclusive workplace that respects, values and actively pursues the benefits of a diverse workforce.
We work flexibly at CSIRO, offering a range of options for how, when and where you work. Talk to us about how this role could be flexible for you.
Find out more here! Balance
The Environomics Future Science Platform: Environomics is genomics for environmental science, a frontier science that brings together advances in DNA sequencing, evolutionary biology, big-data and environmental modelling. Just as genomics has revolutionised agriculture and medicine, Environomics will shift Australia towards a whole-of-environment understanding of the genetic roots and relationships of our biodiversity, from our evolutionary hotspots, to the trillions of microbes essential to our soils, to the genes that give plants drought tolerance. Environomics will allow us to see beyond the Australian landscape to the genescape, transforming our ability to manage our biodiversity and make use of the genetic resources locked inside.
The National Research Collections of Australia: CSIRO is the custodian of a number of collections of animal and plant specimens that contribute to national and international biological knowledge. Together, they constitute a vast storehouse of information about Australia's biodiversity and underpin a significant part of the country's taxonomic, genetic, agricultural and ecological research - making these vital resources for conservation and the development of sustainable land and marine management systems.
How to apply: If you wish to apply for this position, please upload 1 document only containing your Cover letter, and your resume/CV that best demonstrates your ability to meet the requirements of the role as defined in the Position description. You will also be asked to provide responses on-line to the key selection criteria.
Applications close: 11:59pm AEDT, 18 March 2018

Closing Date:

18 Mar 2018
Location:

ACT - Canberra
Salary:

$83K - $91K plus up to 15.4% superannuation
Work Type:

Contract/Temp
Category:

Cell/Molecular Biology
Fellowships
Genetics/Genomics
Research/Scientific