First listed on: 08 August 2017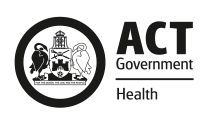 Health
Office of Research
Executive Level 2.4
Remuneration: $256,039 - $267,315 depending on current superannuation arrangements (PN: E899)
ACT Health is seeking an outstanding senior executive for the position of Executive Director within its Office of Research. The Office of Research contributes to patient-centred, seamless, timely and cost-effective health service delivery by driving a strategic approach to research across ACT Health and ensuring that research outcomes are translated into improved clinical practice for better patient outcomes. It is the hub for strategy, innovation and financing of all research related activity across ACT Health.
Reporting to a Deputy Director-General, the Executive Director of Research provides the professional leadership and management that enables the Office of Research to contribute to better health outcomes through strategic-direction setting, fostering research partnerships and the development of robust evidence to improve clinical practice. The Executive Director will also represent ACT Health's interests in influencing and contributing to the national research agenda. The Executive Director's responsibilities include financial management of a significant budget, physical assets and intellectual property.
This position will suit eminent researchers who have moved beyond pure research and are seeking the opportunity to contribute in broader strategic roles. It requires high order leadership, communication, negotiation, management, representational and interpersonal skills, and an understanding of public service and government decision making processes. Serious contenders will have gained these skills within government and or the academic health research environment.
Eligibility/Other Requirements: A medical or health degree and or PhD with a track record in health research is mandatory.
Remuneration: The position attracts a remuneration package ranging from $256,039 - $267,315, depending on current superannuation arrangements of the successful applicant. This includes a cash component of $205,013.
Contract: The successful applicant will be engaged under a performance based contract for up to five years. Prospective applicants should be aware that long-term engagements are tabled in the ACT Legislative Assembly.
How to Apply: Detailed information and selection documents can be downloaded from www.jobs.act.gov.au. All applications, including application coversheet, written response to selection criteria and resume must be submitted to Shared Services.
Applications should be sent to: jobs@act.gov.au
Contact Officer: Moiya Ford, Ford Kelly Executive Connection 0418 633 352 moiya.ford@fordkelly.com.au
Applications Close: Close of business28 August 2017.
Closing Date:

28 Aug 2017
Location:

ACT - Canberra
Salary:

$256,039 - $267,315 PN: E899
Work Type:

Full Time
Category:

Executive Management/Corporate Services
Public Health
Research/Scientific