Feds celebrate slow rollout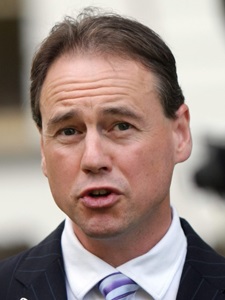 The Federal Government says the number of medical centres ­delivering the COVID-19 vaccine will double this week.
Inoculations are on track to top one million within days, though this figure is much lower than the original target put out when the vaccine drive began.
Health Minister Greg Hunt says there was a record take-up last week. He has also welcomed the NSW government's announcement that it will establish 32 super clinics to boost vaccination delivery.
"We welcome all of the states and territories setting up large vaccination centres; that has always … been part of the plan and was included in the national partnership agreements as an option and NSW is now activating it," Mr Hunt said over the weekend.
University of New South Wales strategic health policy consultant Adjunct Professor Bill Bowtell says the government is being very optimistic.
"There are 97 per cent of Australians this morning who aren't vaccinated – this is not going well," Professor Bowtell said.
"In the world, the virus is mutating faster than we in Australia are vaccinating.
"Most of the other countries in the world … have got this through their head that they need to mobilise urgently to get ahead of the variants of the virus that are spreading in the world – It's a very serious situation.
"We have problems with supply, because of the way in which procurement was organised five or six months ago.
"And we clearly have problems with distribution … we are not moving fast enough with mass vaccination centres and so on.
"We are falling way behind."
It comes as two regulators, the Australian Technical Advisory Group on Immunisation and the Therapeutic Goods Adminis­tration, announce that the locally made AstraZeneca vaccine is still appropriate, after a Victorian man developed blood clots.
The possible link between the vaccine and blood clots has caused some European countries and Canada to pause its use among various age groups.
The 44-year-old man was admitted at Melbourne's Box Hill Hospital after presenting with serious thrombosis and a low platelet count, about two weeks after he received a dose of the AstraZeneca vaccine.
His symptoms are similar to the diagnostic criteria for the extremely rare condition of vaccine-induced pro-thrombotic thrombocytopenia. This condition has not been recorded in Australia to date.
Acting Chief Medical Officer Michael Kidd said over the weekend that it is still too early to give a definitive answer about the clots.
Hundreds of thousands of people across Australia have received the AstraZeneca vaccine without any recorded major side effects. In a normal year, about 30,000 Australians develop blood clots.