Footy fines for nasty knocks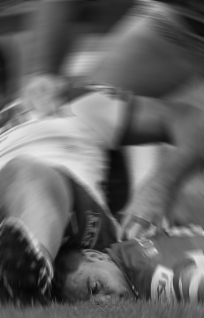 Three rugby league teams have been handed concussion fines worth a total of $350,000.
The Gold Coast Titans were charged $150,000 for incidents involving three players, while the St George Illawarra Dragons and Newcastle Knights were each been issued $100,000 fines.
The teams were fined for not removing players from the game after showing signs of concussion.
Removing players from the field is a vitally important measure to avoid the fatal or severely debilitating effects of second-impact syndrome (SIS) and chronic traumatic encephalopathy (CTE).
The National Rugby League (NRL) competition requires teams remove players for the duration of a game if exhibit any of the following signs:
Loss of consciousness
Falling to the ground without taking protective action
Seizure
Memory impairment
Balance disturbance (ataxia)
"These are, by far, the heaviest fines ever proposed by the game for concussion breaches," NRL chief executive Todd Greenberg said in a statement.
"In the majority of cases we see strong compliance with the League's concussion rules but it appears that this did not happen at the weekend in some matches and we cannot stand by and allow player safety to be put at risk."
The three clubs have five business days to respond to the rulings.
The fines appear even more relevant after a study this week revealed signs of the long-term effects of repeated concussions to rugby league players.
Dr Pearce, from La Trobe University, has completed a study that showed rugby league players score lower on tests of memory, attention span, reaction time and fine dexterity than controls without head injury.
Dr Pearce spoke to reporters about the weekend's NRL games before the aforementioned fines were announced.
He said he was "pretty surprised" Newcastle Knights fullback Brendan Elliot was allowed to keep playing after a serious head knock.
"He was obviously concussed, because when he fell you could actually see that he wasn't trying to guard himself," Dr Pearce told the ABC.
"He already obviously had effects of concussion before he hit the ground."
Another of the incidents saw Dragons player Josh Dugan go down after being elbowed in the jaw by a teammate, but was allowed to keep playing.
After the game, Dragons coach Paul McGregor defended the decision to keep Dugan on the field, saying "it was his jaw, not a head injury".
Dr Pearce slammed that explanation.
"When I did my anatomy the jaw was part of the head," he said.
"We know that with any sort of repetitive head injury you don't have to have a direct hit to the head to have effects of concussion.
"Even indirect hits can very violently move the brain, can affect the neurons or the cells of the brain."