Health boss unhappiness heard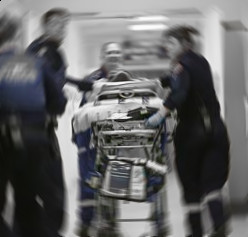 A senior Queensland Health bureaucrat appears to have been caught criticising the state's $1.5 billion digital upgrade.
Queensland is preparing to roll out its Integrated Electronic Medical Record (ieMR) upgrade across almost all hospitals, integrating patient records into an online system that includes real-time vital signs like heart rates and drug schedules.
The ABC is reporting on an alleged recording Mr Walsh expressing concerns about issues that had delayed the rollout.
"Just as a paper-based arrangement in hospital is not perfect, a digital platform is not perfect," he said, according to reports.
"The problem that we have, that always occurs, is that I can go and have those discussions with clinicians — and they're real discussions and they're real issues — and unless people are confident about the safety of what they're doing, it [the rollout] doesn't happen.
"But it's not a perfect world and people know that they're doing work-arounds."
The recording allegedly featured other staff raising concerns about glitches with the software, increased costs to local hospital and health services, and stress.
Mr Walsh allegedly said he could not convey his true feelings to the public.
"As soon as you get outside that environment, you get in to the public, you get forced into this 'black and white'," he said, according to the ABC.
"Taking a message out to the world — it's not perfect, but people are working to ensure that it's safe for people, that's really what's happening.
"So I often get caught into having to speak more positively publicly, because you get put into a situation of having to say; 'The system's going to do this and the auditor-general said that it's delivering benefits and blah, blah, blah'.
"And that's not the reality in our day-to-day — it's messy.
"If there are safety issues, that's paramount and we don't do it."
The AMA earlier this year called for the rollout of the system to be halted.