Hunt launches health cost probe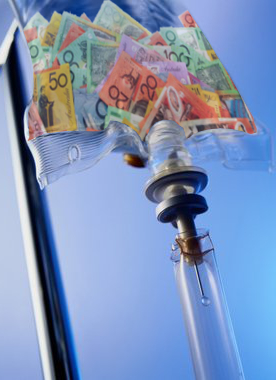 Health minister Greg Hunt has announced an expert committee to look into exorbitant out-of-pocket medical expenses.
Mr Hunt says there is "considerable community concern" that specialist doctors are charging large fees that some patients are unaware of when they are referred to the specialist.
Consumers Health Forum CEO Leanne Wells welcomed the inquiry, to be chaired by chief medical officer Prof Brendan Murphy.
The probe will look at ways to ensure consumers are better informed of fees before agreeing to treatment.
"The Consumers Health Forum has for some time been calling for the public listing of individual medical fees on an authoritative website so that consumers can quickly ascertain what fees they might face and compare them if possible with those of other specialists," Ms Wells said.
"The Senate committee into health insurance and out-of-pocket costs has recently also called for fees to be published on a searchable database which would also include details about the specialist's experience and complication and error rates to enable consumers to weigh the relative skill of a given surgeon or doctor.
"That step towards greater transparency has the potential to make specialists, private insurance and the health sector generally, more responsive to community needs."
Australian Medical Association president Dr Michael Gannon said only a minor amount of patients experience unexpected or hidden fees, and that it is unrealistic to try to compare specialist fees or compel doctors to publish their fees.
"Eighty-six per cent of times people see a GP they know the fee and they know it's zero dollars when they're bulk-billed," he told the ABC.
"If we look at the Medicare Benefits Schedule, for the average specialty there could easily be 300 different items. There's between 15 and 20 different private health insurance companies and they have a bewildering array of products."