Nose cells in spine spell new life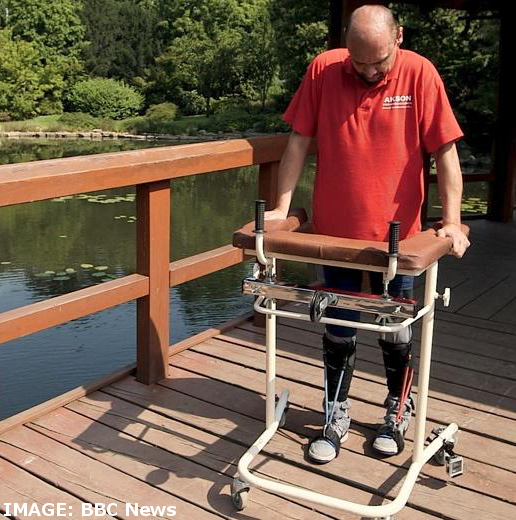 In a world first, a man with a severed spinal cord has been able to walk again.
Paralysed man Darek Fidyka thought he would never feel his legs again after a vicious knife fight in 2010, during which he was stabbed in the spine several times.
Speaking to BBC reporters, 40-year-old Fidyka said his first few steps with the support of a frame were "an incredible feeling".
"When you can't feel almost half your body, you are helpless, but when it starts coming back it's like you were born again," he said.
The experimental treatment involved cells from the Polish man's nose.
Olfactory ensheathing cells (OECs) are specialised cells that contribute to the sense of smell, acting as gateways cells to enable nerve fibres in the olfactory system to be continually renewed.
Over the course of two operations, surgeons removed an olfactory bulb and grew its cells in culture.
They then transplanted the OECs into Mr Fidyka's spinal cord, which had only a thin strip of scar tissue holding it together after being cut through in the knife attack.
For the first round, researchers had just a drop of material to work with - about 500,000 cells.
The OECs were distributed via 100 micro-injections made above and below the injury.
Four thin strips of nerve tissue were then harvested from his ankle and used to patch an 8mm (0.3in) gap on the left side of the cord.
The world-leading team behind the effort said the OECs were providing a pathway for fibres above and below the injury to reconnect, using the nerve grafts to bridge the gap.
Mr Fidyka had been paralysed for nearly two years before the treatments, with no sign of recovery even after many months of physiotherapy.
Five hours of exercise per day, five days a week after the transplant saw his left thigh begin putting on muscle.
Six months later, Mr Fidyka took his first tentative steps with the help of parallel bars and leg braces.
Two years after the treatment he can move around the British rehab centre using only a walking frame, and he has recovered bladder and bowel sensation and some sexual function.
Details of the incredible project have been published in the journal Cell Transplantation.