Poison stats show demographic difference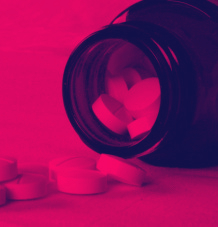 New figures show poisoning remains a significant public health problem in Australia, and that it differs between age groups.
Data from the four state-based Poisons Information Centres (PICs) has been used to analyse poisoning exposures by age group, circumstances of exposure, and the types of substances involved.
There were 170,469 calls (including re-calls about an exposure) related to 164,363 poison exposure events in 2015.
Of those, 64.4 per cent were unintentional, 18.1 per cent were the consequences of medication error, and 10.7 per cent involved deliberate self-poisoning.
"Most exposures were of 20-74 year-old adults (40.1 per cent) or 1-4 year-old toddlers (36.0 per cent)," says Alanna Huynh, a poisons information specialist.
"The most common substances involved in exposures overall were household cleaners (10.2 per cent) and paracetamol-containing analgesics (7.3 per cent).
"Exposures of infants and toddlers were most frequently to household cleaning substances (17.8 per cent and 15.3 per cent respectively) and personal care items (6.6 per cent and 7.3 per cent); callers were usually advised to stay at home (88.5 per cent and 86.4 per cent).
"Deliberate self-poisoning (49.1 per cent) and hospital referral (23.9 per cent) were most frequent for adolescents.
"Poisoning with over-the-counter medications (including paracetamol and NSAIDs) was common in this group, suggesting that reducing sales of these agents to adolescents would be a useful prevention strategy.
"High rates of poisoning with antidepressants and antipsychotics indicate that prescribing these agents should be restricted to those most likely to benefit, and their toxicity profile should be considered when prescribing them for adolescents at higher risk of deliberate self-poisoning.
"Exposures of adults (20-74 years) frequently involved psychotropic pharmaceuticals (17.8 per cent) or painkillers (15.1 per cent). Exposures in adults over 74 were typically medication errors involving cardiovascular (23.6 per cent), anticoagulant (4.6 per cent), or antidiabetic (4.1 per cent) medications."
The scheduling of medications made a difference to the likelihood of them being involved in poisonings, the authors found.
"Schedule 8 medications were least often implicated in unintentional and deliberate self poisoning in all age groups, suggesting that scheduling an item as Schedule 8 — with stringent criteria for prescribing, storage and dispensing — is effective in reducing access and poisonings," they wrote.
Huynh and colleagues suggested that better support for nationwide preventive activities "such as education, toxico-vigilance, and policy effectiveness research" was needed.
"They could be highly cost-effective approaches to reducing poisoning rates."