Refugees' safety risked in Nauru roof work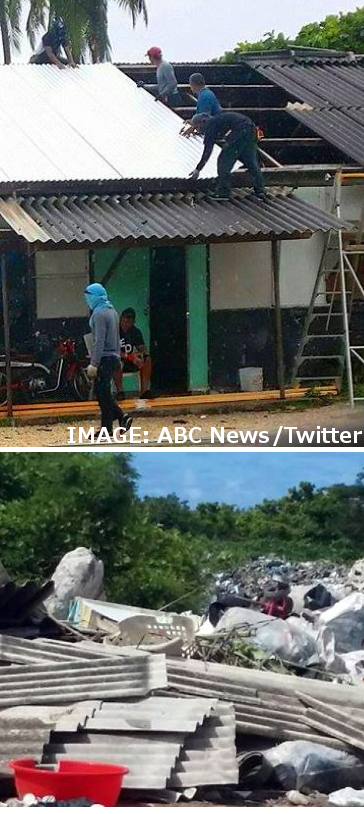 Troubling reports are emerging that refugees and local workers on Nauru are being forced to remove asbestos without proper protection from the potentially deadly material.
Local workers and resettled refugees have been hired as part of a $5.5 million scheme to deal with the toxic roofing and cladding of up to 41 per cent of the island's residences
"This program is safe and greatly beneficial to the people of Nauru," a government statement said, adding: "No refugees are involved in this project."
But a Rohingya refugee speaking on condition of anonymity has told Australian media outlets that he has been tasked with removing asbestos materials without proper protection.
"Sometimes they give me masks and they give me one glove. After maybe two days, three days, another one. After three days they didn't give me anything, no gloves, no mask," he told the ABC.
"One month I worked there. A lot of people looked at me and said; 'Hey, you don't do it like that because you're not using tools, not using the gloves, not using the masks. It's a very big problem for you and your body'."
A European Union-funded report by the Secretariat of the Pacific Regional Environment Program (SPREP) this year found about 212,000 square metres of asbestos-laden material on Nauru buildings.
"All asbestos is old and in various stages of deterioration," the report said, adding that "in many cases it is in an advanced stage of deterioration" and could release asbestos fibres.
The report from earlier this year also found asbestos was being dumped at the local tip with other refuse.
"Scavenging of all refuse is common, including asbestos," it said.
Recent swab tests by experts at EMS Laboratories of California found "significantly high" amounts of asbestos fibres in locations including the maternity unit at Republic of Nauru Hospital, as well as the island's port, power plant, two locations in the prison and in a government building.
Opposition MP and former president Sprent Dabwido says he has deep concerns about safety on the sites.
"Those refugees are willing to do the hard work but I don't think they know the safety risk they're taking by doing this job," he said.
"They climb onto the house, they remove the asbestos with no safety equipment.
"Even the hammering, I don't think there's any training because they throw the roofing off the top of the house and once it hits the ground it breaks and there's dust everywhere."
The Nauru government has denied that any refugees have been employed for the job, and that there is any danger in the renovation scheme,
But it has not given any specific details about safety precautions on the worksites, or any word on how the asbestos is being disposed of.