Top ten drugs tallied

Print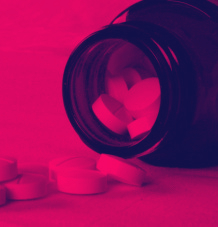 New stats reveal the top ten prescription drugs used by Australians.
Cholesterol lowering drugs and blood pressure drugs made up eight of the top ten most commonly used prescription drugs in Australia in 2018-19, but when it comes to cost to taxpayers, none of the most frequently used drugs are in the most expensive list.
Drugs to treat Hepatitis C again top the list of drugs ranked by cost to government for 2018/19, while many of the remaining top ten most expensive drugs are products often referred to as 'biologicals' - based on monoclonal antibodies.
The lists of most commonly used and most expensive drugs are produced annually and are based on PBS and RPBS prescriptions, compiled by the Department of Health.
The top ten most prescribed drugs are as follows:
1. rosuvastatin (12,026,655 prescriptions)
2. atorvastatin (10,967,105 prescriptions)
3. esomeprazole (9,278,125 prescriptions)
4. pantoprazole (7,375,606 prescriptions)
5. perindopril (6,551,571 prescriptions)
6. cefalexin (5,643,287 prescriptions)
7. amoxicillin (5,254,811 prescriptions)
8. metformin (5,017,700 prescriptions)
9. amoxicillin + clavulanic acid (4,706,645 prescriptions)
10. escitalopram (4,533,725 prescriptions)
The top ten ranked by their cost to government are as follows:
1. sofosbuvir + velpatasvir ($391 ,007,833)
2. aflibercept ($358,636,721)
3. adalimumab ($317,436,175)
4. nivolumab ($267,738,344)
5. pembrolizumab ($220,469,394)
6. denosumab ($218,970,118)
7. ranibizumab ($207,163,441)
8. ustekinumab ($178,790,589)
9. glecaprevir + pibrentasvir ($173 ,610,672)
10. apixaban ($170,049,351)