First listed on: 24 May 2023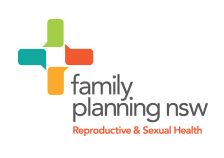 Research Officer/Grants Officer
If you are motivated, passionate, open minded and interested in helping deliver the services offered by Family Planning Australia, we'd love to have you join the team.
Looking for the right candidate to contribute to our team
We are a leading and continually growing NFP organisation
We offer a friendly, collaborative team and you will have your contribution valued
Study leave options for those completing additional formal qualifications relevant to roles within Family Planning Australia
Full time employees accrue ADO's
Paid parental leave
Opportunities for continual growth within this role
Full Not For Profit Salary Packaging ($15,900pa) plus Meal/Entertainment ($2,650pa) increasing your fortnightly take home pay
Why Family Planning Australia?
Family Planning Australia is always on the lookout for talented and passionate individuals to contribute their skills to one of Australia's largest not-for-profit reproductive and sexual health care organisations and we believe that a diversity of experiences and perspectives will help us build stronger strategies, teams and services.
About Family Planning Australia
Family Planning Australia (FPA) is the leading provider of reproductive and sexual health services in NSW. As an independent not-for-profit organisation, we offer expert clinical care, information, and advice for everybody in every family as well as education and training and evidence-based research to support doctors, nurses, and other professionals.
Family Planning Australia is committed to excellence in meeting the reproductive and sexual health needs of the community. We achieve this by providing best practice, accredited clinical services, enhancing the knowledge and skills of service providers, improving the body of knowledge about reproductive and sexual health through rigorous research and evaluation, and leading international development projects to promote the rights of marginalised people in developing countries.
Our Values
Family Planning Australia is a pro-choice organisation
All staff at Family Planning Australia are expected to fully support an individual's right to choose regarding their pregnancy, whether that be parenting, adoption/foster care or abortion.
As an abortion service provider, all staff in the organisation are expected to actively participate in the provision of abortion services in line with the full scope of the role they are appointed to.
Must support the Family Planning Australia values:
Human rights focus - promoting the rights of all people to reproductive and sexual health
Integrity - maintaining a strong ethical base, being accountable and transparent
Inclusiveness - valuing and respecting diversity without judgment
Equity of access - ensuring access to our services for all including priority populations
Client centred - placing the needs of the whole person at the centre of our work
Commitment to excellence - ensuring high standards in all our work
A just culture – a balanced accountability for both individuals and the organisation
Are you open minded, motivated and passionate about improving the reproductive and sexual health knowledge and awareness?
Are you interested in leading award-winning, innovative health promotion projects?
If so, we'd love to hear from you!
We are searching for the right candidates to fill these positions on a Fixed Term Part-Time basis in a dynamic team until 30 June 2025.
Position Overview
The position will be actively involved in Family Planning Australia research and evaluation activities to evaluate programs and to inform policies and planning for reproductive and sexual health initiatives and to increase the body of knowledge in reproductive and sexual health in the public domain.
The position is also responsible for supporting the Director Research Centre in exploring grant opportunities, writing/coordinating grant submissions and the overall delivery of existing research grants program. This includes maintaining appropriate documentation and records to comply with the funder's guidelines, liaising with key stakeholders, advertising, and communications, and providing effective and timely reporting.
Base Full Time Salary: $85,362
To Apply
Your application must include a:
Resume (CV); and
Cover letter outlining how your skills and experience meet the selection criteria listed in the position description

.
Written communication skills will specifically be assessed based on the quality of your cover letter. Incomplete applications will not be considered.
To learn more about the role, responsibilities and the required pre-employment checks, please see the position description. If you are unable to view the attached position description, please visit our careers page at https://www.fpnsw.org.au/get-involved/jobs and click on the position description link at the bottom of the relevant job advert.
Family Planning Australia does not accept unsolicited agency resumes or applications and is not responsible for any fees related to unsolicited agency resumes or applications.
To apply online, please click on the appropriate link below. Alternatively, for a confidential discussion, please contact Jane Estoesta on (02) 8752 4318
Selection Criteria
Essential
Graduate qualification in the field of public health, research or equivalent
Proven experience in writing literature reviews, research proposals and ethics applications
Demonstrated ability to collate data/information from disparate published and unpublished sources and the ability to effectively track and manage data, versions and updates, and data sources.
Experience in supporting, coordinating and/or developing research grant submission
Proven experience in supporting and/coordinating research studies including preparation of research proposal, ethics application, recruitment and follow-up
Proven experience in qualitative and/or quantitative data analysis and use of relevant software
Ability to work concurrently on a number of different projects and to coordinate projects within timeframe and budget constraints
Ability to work autonomously and as part of a task-oriented team and multi-disciplinary team
Knowledge in data analysis and the use of standard statistical packages
Ability to adapt to new systems and processes, or high administration experience in a research-intensive environment
Excellent oral and written communication skills
Strong problem-solving skills and ability to use initiative and exercise sound judgement and ability to prioritise workload during busy periods, or excellent time and workload management skills with demonstrated ability to prioritise effectively, manage multiple tasks, meet deadlines, and achieve required outcomes
Other requirements
A Criminal Record Check and Working With Children Check are required prior to commencement in this role
Location:

NSW - Newington
Salary:

$85,362 (Base Full Time Salary)
Work Type:

Part Time
Category:

Grants/Funding
Reproductive Health/IVF
Research/Scientific
Sexual Health